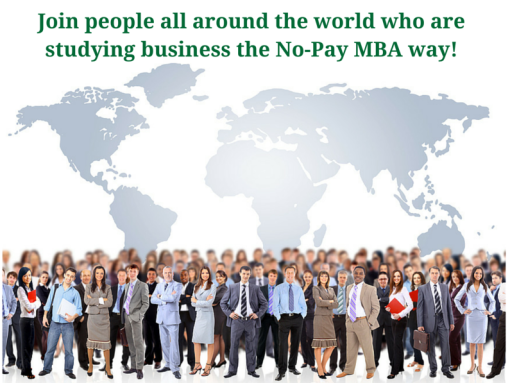 No-Pay MBA Network Membership
Congratulations! You've been accepted into the No-Pay MBA Network!
Your membership includes:
Many opportunities to meet, connect with, and collaborate with other people who are working on No-Pay MBAs. You'll take courses together, work together on projects, and help keep each other motivated.  Network members meet monthly as a group. Between meetings, discussion boards and messaging keep you connected. 
Guest speakers by video conference. You'll interact with and learn from business school professors, entrepreneurs, and employers – just like in a traditional MBA program.
Video archives of past calls and guest speakers, in case you miss a call, or if you'd like to check out what happened on calls before you became a member. 
Opportunities to build your portfolio by working on projects with other Network members. Network members take courses together and do course projects together. Every member will have the chance to build a portfolio of work demonstrating their new skills.
Mentorship and support.  I (Laurie) like to connect with everyone in the network in a one-on-one call. In our first call, we will discuss your goals and make a plan for reaching them. 
I'm looking forward to meeting you and seeing you in our next video call. Instructions on how to get started will follow by email once your registration is complete.
– Laurie
Questions? Email laurie@nopaymba.com