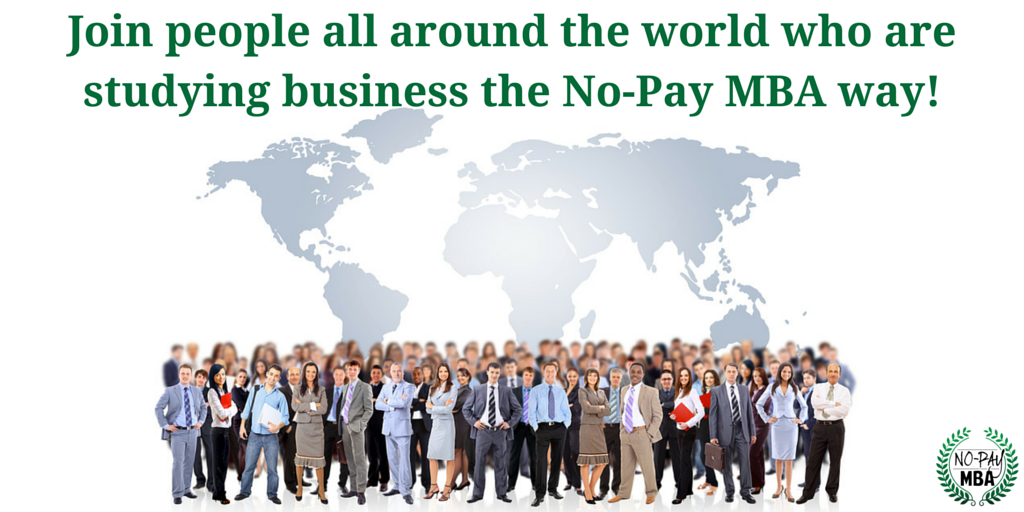 There is no doubt in my mind: I have gotten the business education that I set out to achieve when I began the No-Pay MBA project two years ago. But while I'm not concerned about the lack of a formal credential for my studies, there is one thing that I have felt was missing from my business education, something I haven't been able to fully replicate through online coursework or even digital internships.  That missing component is the network that comes as part of a traditional, university-based MBA program.
Many people will tell you that the business school network is just as valuable - if not more so - than the content covered in business school courses. I would never be so cynical as to suggest that the coursework itself is not highly valuable - without it I wouldn't have even known where to begin when starting my own business. But I also believe the conventional wisdom that suggests that by studying on my own I've missed out on something very important.
Which is why I've set out to create a place on the web where future generations of MOOC business students can experience the social element of learning that I wish I had had during my own business studies.  Today I am launching a set of new tools and services to give you both a template for structuring your own DIY business studies and a place to connect with people all over the world who share your goals.
Having interacted with many of the readers of this blog, I know that there is an incredible peer network here in the making. Just like in a traditional MBA program, this cohort is full of future founders and chief executives, data people and dreamers. I have created a platform to connect these amazing people, and I am releasing that platform today.
Today marks the launch of the No-Pay MBA Network.
In the same way that I have created my own business education out of freely available resources, I believe it is possible for a group of people to use one another as a resource, to form a network outside of the university halls. Just as I have been able to learn the content that is covered in a business school classroom, I believe it is possible for this group to play the role of the traditional business school network.
By linking up with one another, we can pull one another along, building and sharing in one another's success. It may take some time, but I also believe this network will expand to include successful entrepreneurs, employers, educators, and enthusiasts of lifelong learning who can provide opportunities to people pursuing No-Pay MBAs - the internships, jobs, mentoring relationships and volunteer experiences that serve as the true pathway to career advancement.
What is so exciting for me about launching this network (and let's be honest, a little terrifying), is that its success will depend not just on my efforts, but on the engagement of its members, a.k.a YOU.
I see this network as a long-term investment, not primarily of money but of time and energy; the greater the investment on the part of the community, the bigger the payoff for all of us.
What you will see when you log in today is the beginning. By joining as a member, you will be part of shaping what it becomes.
My vision for  the No-Pay MBA Network
I have spent a lot of time envisioning how the No-Pay MBA Network might enhance your experience of studying business outside of a regular university. Here are some of the ways I imagine it working for you:  
You are taking a course that requires a class project, to be done as a team. You form your team out of other No-Pay MBA Network members who are also taking the course. Your team so enjoys working with one another that you decide to take multiple classes together. Even though you don't live in the same city, you are able to connect regularly to study together and support one another throughout your education.
Your employer would love to send you for a fancy MBA degree but the company's budget simply doesn't allow it. You inform your employer that there is another option - a No-Pay MBA - and you both reap the benefits of an affordable education.
You are looking for tips on how to discuss your No-Pay MBA with your employer and to ultimately take on new work responsibilities based on what you're learning. Through the Network, you find people who have already had these conversations and can offer suggestions. Later on, you pay it forward by mentoring other students who are seeking to replicate your success.
You see a great opportunity at your current company or on a project you work on. You post an internship opportunity to the No-Pay MBA Network, resulting in your company's next great hire.
Your MBA concentration is in digital marketing. You link up with someone studying data analysis and another person focused on entrepreneurship. Together, you form a startup company.
You've scored a promotion! You share your story as an article on the No-Pay MBA blog.  Your article serves as an inspiration to new members of the Network and people who are considering joining.
You have finished your studies and are looking for a job. Through the No-Pay MBA Network you are connected with an employer who admires your motivation and self-direction and would rather hire you than an MBA grad from a regular program.
These are my dreams for this network, and I can promise that I will work as hard as I've worked on my own No-Pay MBA to make them a reality.
But it's not just my dreams that matter. I am so excited to get to know your hopes and aspirations for your business education and to see what you contribute to our collective learning experience.
See what the Members Area looks like
This video gives a taste of how the No-Pay MBA Network functions and what you can do from the members area of the site:
If you're ready to join the No-Pay MBA Network today, or even if you'd just like to get the No-Pay MBA Handbook and Current Course list, you can find everything you need to get started on your No-Pay MBA right here: