In 2013, I began a public quest to use massive open online courses (MOOCs) to put together my own version of an MBA.  I needed a business education to move forward in my career, but after researching the options, I was unconvinced that a $100,000 investment in a traditional MBA would pay off.
When I learned about the existence of free online courses from the world's top universities, I thought there might be another way to get the business education I desired, at a fraction of the price.  I created this website to document my journey and so that others could learn from my experience.
The No-Pay MBA project and the idea that you can get a world-class business education without spending your life savings has captured many people's imaginations, earning me coverage and references in some major publications, including the Wall Street Journal, Entrepreneur, TIME, and Bloomberg Business.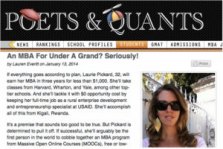 The business school admissions website
Poets and Quants
covered the project in its early days, under the headline "
An MBA for under a grand? Seriously!
" The article was reposted to LinkedIn and was viewed and shared by more than 500,000 people.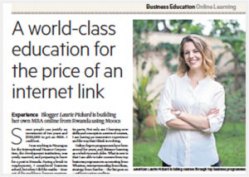 Fortune has called me "a household name in the world of MOOCs." I've contributed to the Financial Times in a special report on online learning. My career advice has appeared in The Daily Muse.
Through my own self-made business education, I've discovered a passion for helping like-minded, enterprising professionals unlock their potential using the tools of the digital age. My new book Don't Pay For Your MBA (HarperCollins, 2017) distills everything I have learned about constructing a career-launching business education. It is available everywhere books are sold, including Amazon, Barnes and Noble, and IndieBound.
Through my MOOC-based business education I got connected with Class Central, the #1 search and review site for MOOCs. After finishing my business education, I enthusiastically joined their startup team. Working for Class Central has given me the chance to continue to engage with and write about MOOCs and online education, now from an industry perspective. You can see my articles on Class Central here.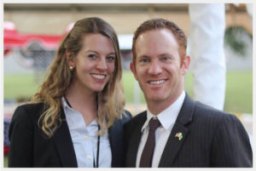 I live in the Washington, DC area with my husband and our twin one-year-olds. 
Want to get in touch? You can reach me
here
.