Hi! I'm Laurie.
I used massive open online courses to get a business education equivalent to an MBA - for less than $1000.
---
Learn how I did it and find out if a No-Pay MBA is right for you.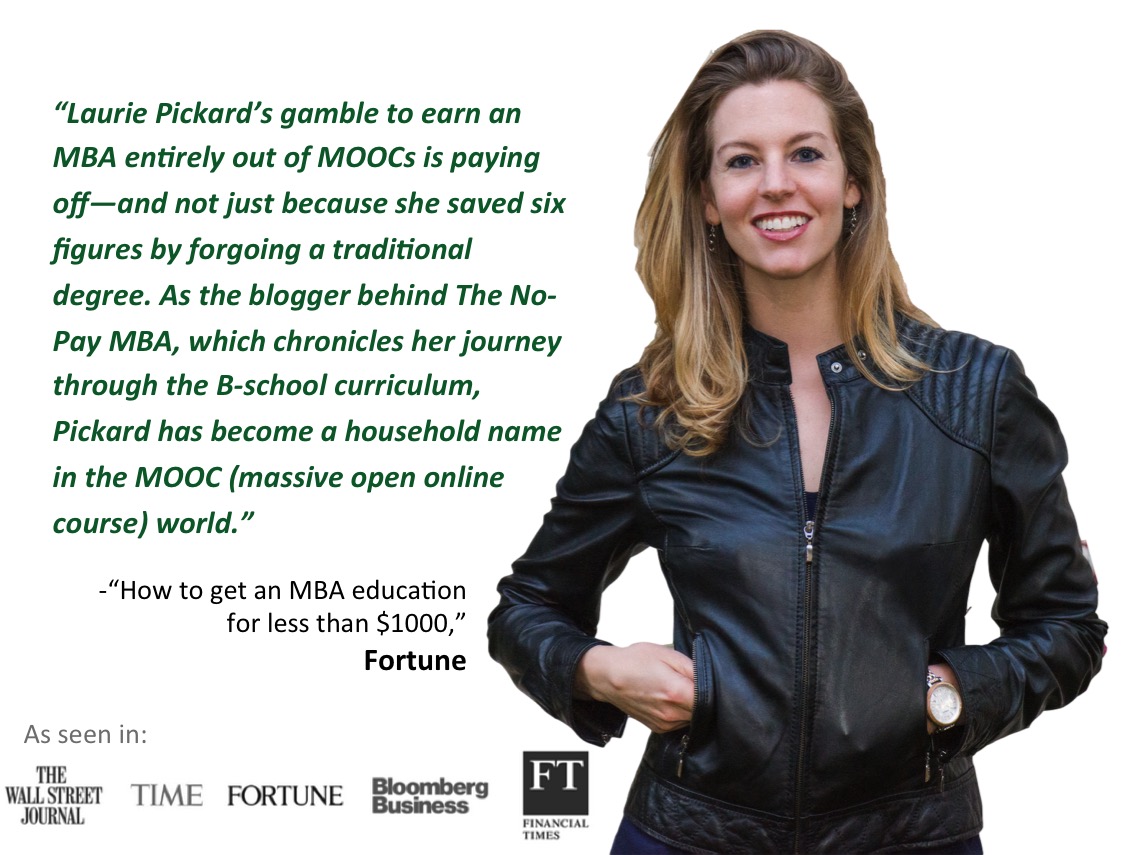 ---
 What I Know About Business Education
In the process of completing an entire MBA education via MOOC I learned three important things:
1 - There is SO MUCH CONTENT available, you can easily get a complete business education without spending much money to do it. 
2 - The PEOPLE YOU MEET in your business education are as important, if not more important, than anything you learn in the classroom. 
3 - It doesn't matter how much free content is out there if you don't actually take the time to study it and to PUT IT INTO PRACTICE right away. 
MOOCs are amazing, but…
MOOCs are an incredible source of knowledge, but only a very few will require you to put your skills into practice, and almost none will provide good opportunities to meet people. As the first person to blog about getting  a MOOC MBA, I had a special advantage, and most of the connections I made came from having this website, not from my courses.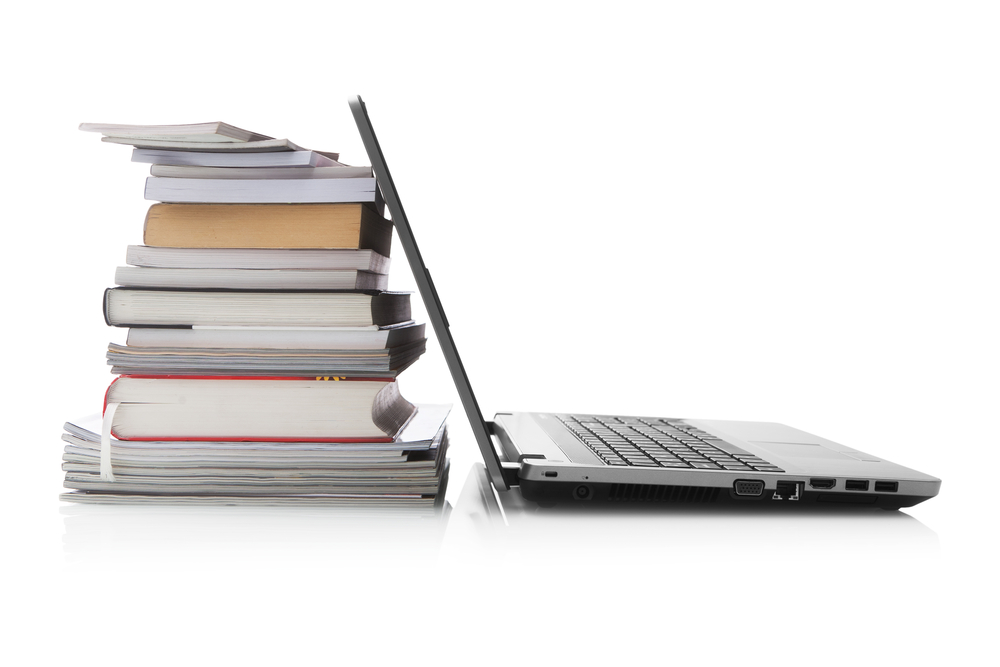 ---
The No-Pay MBA Network
I created the NO-PAY MBA NETWORK to make it possible for you to get an even better business education than I did, an education equivalent to an MBA, including networking and experiential learning opportunities. The purpose of the network is to:
Connect you with a community  people studying business online, not just the dabblers, but smart, motivated people who are serious about reaching their goals using non-traditional tools.
Give you opportunities to put your skills into practice, to solidify your learning and provide you with backup when you go to make the case that you have a business education worth taking seriously.
Keep you motivated to actually finish your education, which surprisingly few people manage to do on their own. 
I work with every member to develop a personal learning plan.  Network members take courses and work on projects together. We meet monthly by videoconference. In between we stay in touch through a private messaging app.
Membership in the network costs $20 per month and is by application only.
You won't find anything else like it at a comparable price.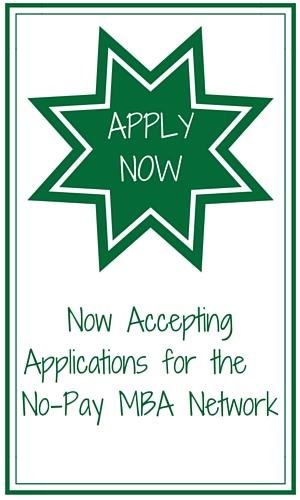 For promotion in my current role at work, an MBA is required / recommended. In addition to demonstrating my knowledge at my company, I have presented my No Pay MBA curriculum to my manager as evidence that I am ready for that next step.
Nick Switzer
No-Pay MBA unwraps education and ties learners' outcomes to their grit, persistence, hard work, tenacity, and resourcefulness — not their wallets or the amount of time they spend in a classroom. This, I believe, reflects the true spirit of seeking knowledge and putting it to use to improve one's quality of life.
Nabeel Gillani
No-Pay MBA is becoming a catalyst for people who now recognize that skills are actually more important than a piece of paper. Just as Google and Facebook are happy to hire developers who may not have a formal degree, but stand out on sites such as Stackoverflow and Github, the No-Pay MBA is in a position to make this career path open to business professionals.
Gordon Rogers
As someone who suffered through a traditional classroom-based MBA program offline, I assure you, No-Pay MBA's class choices mirror a traditional MBA program. Even the sequence year to year doesn't look that different from my own. I actually feel a little silly that I shelled out almost $40,000 for my degree, when you can get a MOOC MBA for much less at higher ranked schools!
Bridget Casey
Being able to pick and choose which subjects in which order was really exciting. When I knew there was a topic I needed to learn more about, I could start with a few articles, and then add a MOOC whenever the next appropriate course became available.
Greg Widders
Other tools and resources
Build your free educational portfolio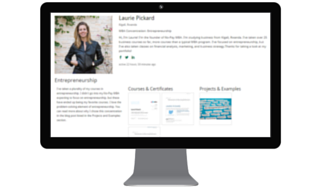 ---
Free and open to anyone

A great way to share your non-traditional education with potential employers

Chance to be featured in No-Pay MBA's portfolio gallery 
---
Get the No-Pay MBA Handbook and Course List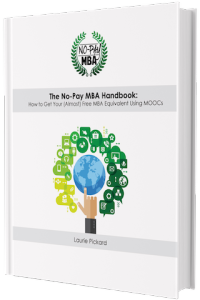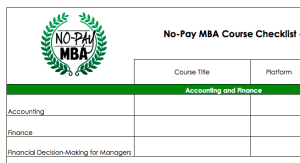 ---
Totally flexible and always available

Current Course List with courses available for immediate sign-up

Includes opportunities to meet other people who are studying business by MOOC
---
No-Pay MBA Investment Calculator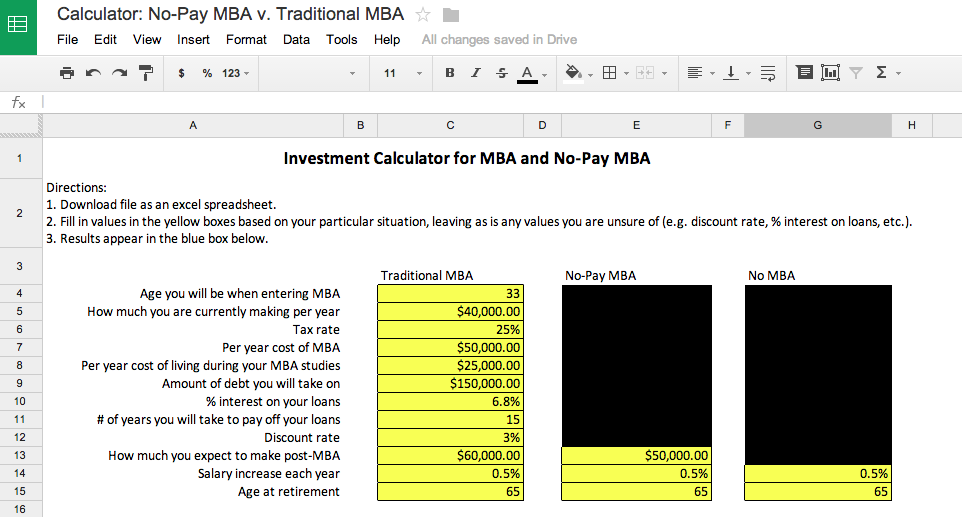 ---
Free investment calculator

Learn whether an MBA is a good investment - and whether a No-Pay MBA might be better
---
---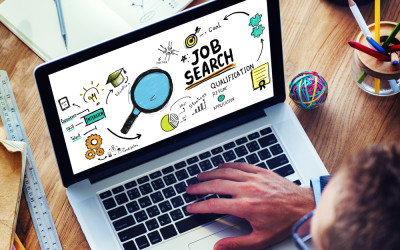 Guest post by career coach Anna Sparks.
Earning an MBA-equivalent through self-study with MOOCs says a lot about you as a job candidate. It says that you are willing to do things creatively. It says that you aren't confined by traditional ways. It shows that you can get things done even with limited finances. It shows that you are dedicated to finishing a project. These qualities are all incredibly important to most employers in the current market.
Your No-Pay MBA should absolutely be listed under your Education on your resume, but don't stop there! I want you to let this non-traditional experience shine, highlighting it in your cover letter or in a key qualifications section at the top of your resume.
Let's explore some strategies for showcasing your No-Pay MBA on your resume and in your cover letter.
read more