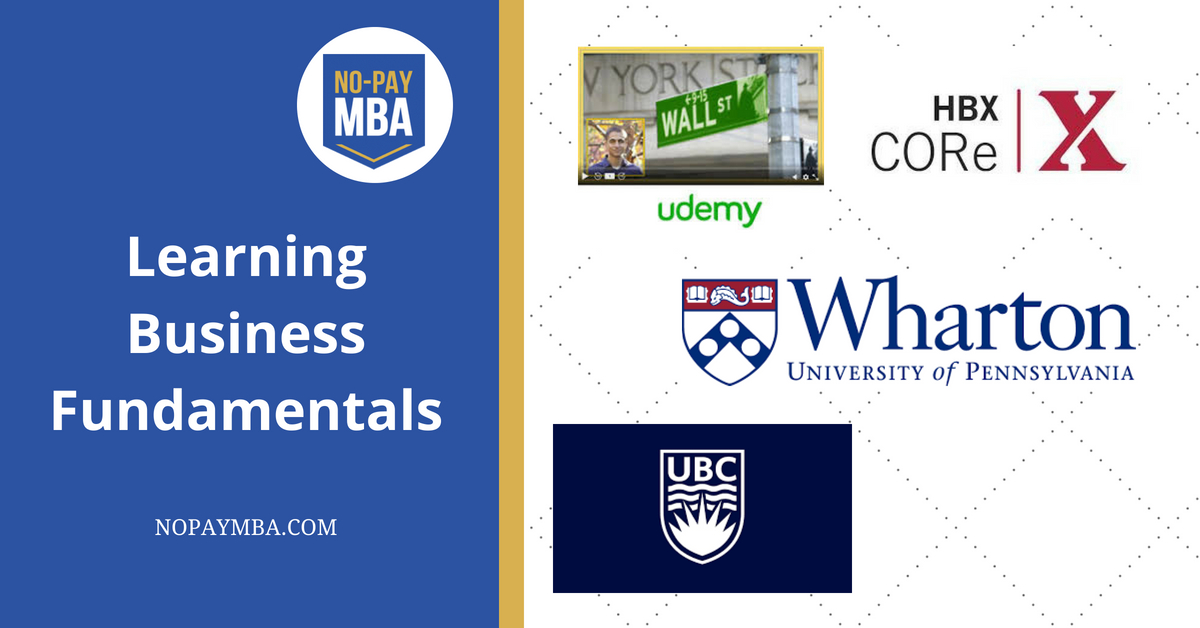 Most business schools start their first-year students with a set of courses that get everyone on the same page, teaching certain fundamentals that serve as a foundation for the rest of the education. If you are considering putting together your own business education, I recommend that you do what regular MBA students do and start by taking a variety of courses that cover the major business disciplines. This website is dedicated to the premise that you can get an MBA-style education, on your own, for a fraction of what you would pay for even the cheapest MBA program out there. This is possible thanks to the existence of open educational resources (OER), massive open online courses (MOOCs), and other free and low-cost resources that make high-quality education available to pretty much anyone.
These days, in addition to individual business courses, there are a variety of course series that cover those fundamentals. The nice thing about a course series, is that some of the work of designing your curriculum is done for you.
Below are a few options for readymade course series that teach business fundamentals to people without a prior business background.  While the list of topics they cover varies slightly, what all these programs have in common is that they will teach you to understand and speak the language of business.
Business Foundations Specialization
University of Pennsylvania Wharton Business School on Coursera
The Business Foundations Specialization from Wharton Business School on Coursera consists of five courses, plus a capstone project. The courses provide an introduction to marketing, financial accounting, managing people, corporate finance, and operations management. I took versions of three of these courses (accounting, marketing, and operations management) back when they were first introduced (the current courses are condensed from the originals), and I can personally attest to the high quality of the content. I still use concepts I learned in these courses every day at work. At $79 per month, it's a good value when you consider that you are learning from some of the top professors at a school that is consistently in the top 5 MBA programs in the US. The full program can be completed in about 6-7 months, at a cost of around $500.
HBX CORe
I have been very interested in the Certificate of Readiness (CORe) from Harvard Business School's extension program, HBX. CORe consists of three courses, on Business Analytics, Economics for Managers, and Financial Accounting. At $1,950 this program is more expensive than the others on this list. However, I think there are some good reasons to consider it. First, the Harvard name pulls some serious weight, even if you've take just a short program like this one. Second, the program offers some flexibility to students. You can choose a standard 12 week program, an accelerated 8-10 week program, or an extended 17 week program, depending on what fits into your schedule. You can also elect to earn credit (for an additional fee). Third, the level of personal interaction in this program is high as compared to other online courses. From what I can tell, the interaction is more similar to an online degree program than what you would find in a MOOC.
Business Fundamentals MicroMasters
The University of British Columbia on edX
One newer program is the Business Fundamentals MicroMasters from the University of British Columbia. This MicroMasters is offered on the edX platform. Like the other MicroMasters on edX, this program can accelerate a Master's degree. So, if you decided to continue to get a full MBA from UBC, this program would count towards that degree. When you consider the offer of credit towards the full MBA, the $720 price tag is actually very affordable. The series consists of six courses, including Business Foundations, Business Communications, Introduction to Accounting, Organizational Behavior, Introduction to Marketing, and Introduction to Corporate Finance. The program can be completed in about 9 months.
An Entire MBA in 1 Course
For a very inexpensive introduction to business, you might want to look at Chris Haroun's course on Udemy, An Entire MBA in 1 Course. I have reviewed this course in depth elsewhere on the blog. It is a great resource, and at $50 (with No-Pay MBA's discount), it is very affordable as compared to the other options on this list. One drawback is that it is just a single course, so you are only getting one person's perspective. That said, it is about as comprehensive as any single course you will find. Particularly if you are an entrepreneur or working in a startup environment, or if you just need to gain a basic understanding of business and don't have much time or money to invest, this is a great choice. It's also fully on demand and self paced, so you can access any part of it at any time. NB: One thing to be aware of is that unlike the other options on this list, this is not the kind of course you would list on your resume, though it works just fine for increasing your general level of business skills and savvy.