The Smartly MBA is 100% online and 100% free for students.
Note: This post was originally published on August 22, 2016 and was updated on December 8, 2017. This post contains affiliate links.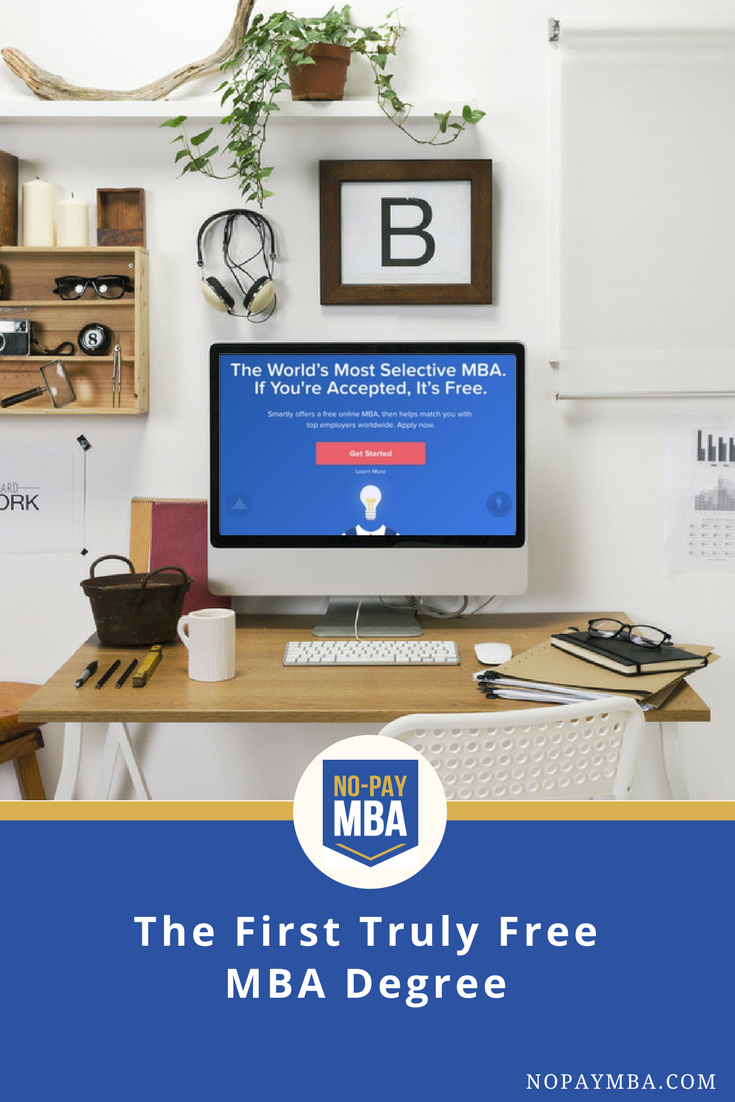 Folks, hang onto your hats. The free MBA has finally arrived. Over the past several years we've seen a variety of business education options tailored toward price-sensitive students. Starting around 2012, MOOCs made it possible to get a top-tier business education for free (minus the degree of course).
Since then, there has been an explosion of MBA programs and other business credentials, all costing less than a quarter of a traditional MBA. In 2015, the University of Illinois launched its iMBA through Coursera, a MOOC-based MBA degree for $22,000 - still a big chunk of change but much more affordable than a typical top-25 MBA program. That same year,  the University of the People premiered its "tuition-free" MBA, though students still need to pay about $2,000 in testing fees to get the credential. HEC Business School now also offers an online Master's in Innovation and Entrepreneurship (also through Coursera) for 20,000 euro. And earlier this year, MOOC provider edX introduced a new suite of MicroMasters programs in business, all at around the $1000 mark.
Still, none of them has managed to do what Smartly has done. Smartly offers the only truly free MBA degree. Not a scholarship, not free-to-audit, but a fully free business education resulting in an MBA degree.
How the Smartly MBA Works
The Smartly MBA was created by a company called Pedago, which was founded by Tom Adams, Alexie Harper, and Ori Ratner, all of whom worked together at the language learning company Rosetta Stone. The Smartly MBA is built on Pedago's interactive web and mobile app. "We had succeeded in bringing active learning principles to the language learning market, but were frustrated that most of the online learning industry was stuck in the lecture-and-broadcast mode of instruction. So we decided to start Pedago with the mission of delivering mobile-first, bite-sized lessons on an active learning platform that could support content in any subject-area," says Harper, Chief Product Officer at Pedago.
The Smartly MBA is delivered online through a highly interactive technology application. No PowerPoint, no lectures. To complete each lesson, students must interact with the system constantly, every 8.7 seconds on average. The curriculum includes 600 lessons on 9 business subjects, a full MBA education.
The program is one hundred percent free for students. Smartly makes its money on the back end, by charging recruitment fees to the employers Smartly expects will eagerly snap up its graduates. Job placement is an integral part of Smartly's offering.
Students are accepted by application only. So far, Smartly has had about 2,000 students go through its programs, including both currently enrolled students and alums.
Perhaps even more incredible than its price is that fact that students can finish the program in just nine months. That's about half the time it takes to complete a traditional MBA.
"We were frustrated that most of the online learning industry was stuck in the lecture-and-broadcast mode of instruction."
Is it really an MBA?
At present, the Smartly MBA is not accredited, meaning it hasn't been reviewed and accepted by one of the official bodies that accredits business schools. However, Smartly is licensed to offer an MBA degree by the Office of the State Superintendent of Education in Washington, DC. Smartly decided to launch their offering into the marketplace without waiting to complete the lengthy accreditation process, which can take multiple years. Smartly does plan to seek accreditation in the future.
"These aren't your typical online MBA students. These are Ivy Leaguers, entrepreneurs, investors, top-tier coders, consultants, and graphic designers."
Who's doing it?
The typical Smartly student has already achieved considerable academic and career success. That is certainly the case with Yash Jain, one of the members of the inaugural Smartly cohort. Jain currently works as a strategic business development consultant at Booz Allen Hamilton. His a long term goal is to become a venture capitalist in the area of health technology. Jain holds an undergraduate degree in Biomedical Engineering from The George Washington University and a graduate degree in Biotechnology and Entrepreneurship from the University of Pennsylvania. He describes his ideal professional role as "the bridge between the engineering and business worlds."
While Jain did have some hesitation about joining an unknown and untested online MBA program, he says those fears evaporated once he started to meet the other members of his incoming class. "These aren't your typical online MBA students," he says.  "These are Ivy Leaguers, entrepreneurs, investors, top-tier coders, consultants, and graphic designers."  
Smartly's students interact through a social learning platform that accompanies the interactive software. This is where students in each cohort do collaborative group work and case studies online.
The catch? You probably won't get in
Does a free MBA sound too good to be true? Well, for most people, it still is. Smartly advertises itself as "the world's most selective MBA." With an acceptance rate under 7% and an average GMAT score among accepted students topping 700, Smartly beats out programs like Harvard, Stanford and INSEAD when it comes to selectivity. So, while its technology program is scalable, Smartly serves the same kind of students that would typically be found in the most elite MBA programs. Members of Smartly's first cohort have work histories that include Morgan Stanley, Accenture, KPMG, McKinsey and Company, and Google; and academic transcripts that include schools like Harvard, Princeton, Stanford, and Yale. This year, two of Smartly's MBA students appeared on the 2018 Forbes 30 Under 30 List. To put that into perspective, Harvard Business School had 4 alumni on the same list.
Going forward, Smartly plans to keep its MBA highly selective but says that the company is still solving an important problem for many talented students. Not everyone who is able to get into a top MBA program can afford to go. With the Smartly MBA, price is not a barrier. Thanks to its scalable technology, Smartly can accept more students than many on-campus programs can. Of the top 10 business schools worldwide, Smartly is on pace to be the largest in enrollment in 2018. Additionally, as the company expands, it plans to develop other programs and degrees that will be open as well as free.
New programs to meet the needs of more students
In addition to its signature MBA program, Smartly has recently launched two more offerings, a Business Certificate program and an Executive MBA program. Like the MBA, the six-week Business Certificate program is free for students. It also includes access to Smartly's virtual network of students and career network.
The 12-month Executive MBA program is geared towards mid-career professionals with additional courses in management, leadership, entrepreneurship and strategy. Admission is weighted more on career achievements, and the curriculum emphasizes peer activities with group projects and collaborative case studies. The EMBA also features optional on-site weekends in Washington, D.C. for networking and business-oriented activities. At $9,600 the EMBA isn't free, but it is much more affordable than many other comparable programs. 
Details
Smartly is currently accepting applications for the Free MBA and the Executive MBA. Information about the Business Certificate can be found here. 
What do you think about the Smartly MBA? Is it a good option for people seeking an affordable business education? Share your thoughts in the comments below!