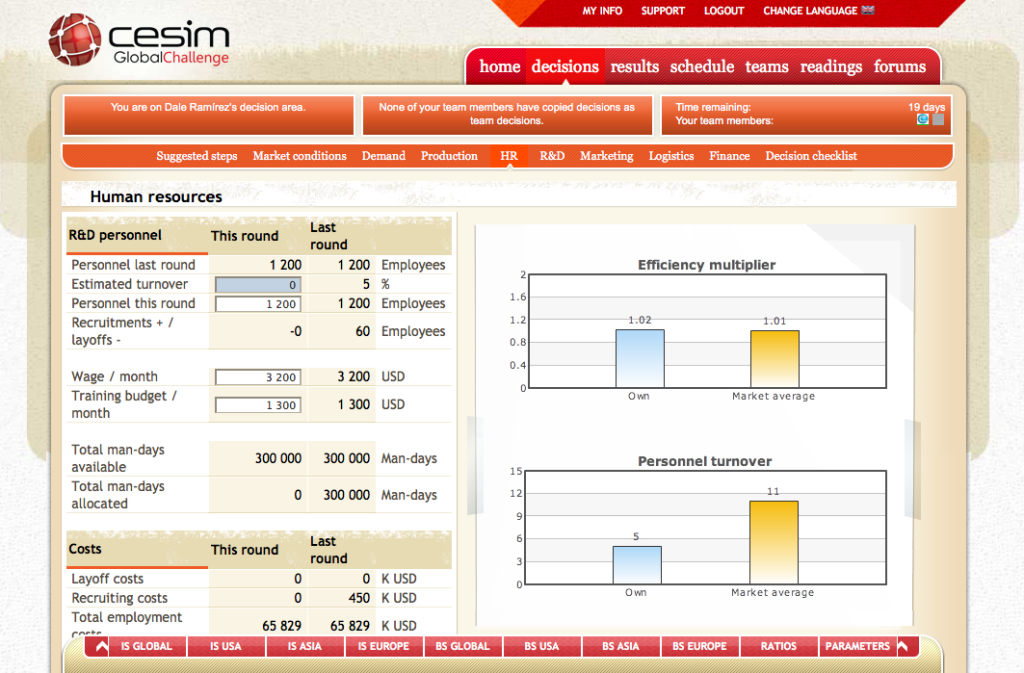 Recently, I and a few members of the No-Pay MBA Network got the chance to participate in a business simulation game through Cesim, a Finnish company that provides these simulations as trainings in both university and corporate environments. While this isn't an experience that is available to most MOOC students (Cesim generally works with classroom-based MBA programs), it was a valuable supplement to my MOOC course work, and it gave me some insight into the potential for online education to be both collaborative and experiential.
Full disclosure: I have received no compensation from Cesim, but in exchange for free use of the simulation with members of the No-Pay MBA Network, I did agree to reflect on the experience in a blog post – an excellent value in my opinion! 😉
Cesim's business simulations are used by many business schools as a capstone experience, tying together the many threads of a business education. Eight of us from the No-Pay MBA Network played the simulation game, in four teams of two. We grouped ourselves by time zone so that teammates would be able to find times to talk to one another – a constant challenge for our globe-spanning group.
In the Cesim Global Challenge simulation, each team makes decisions for a fictitious company in a series of rounds; in this case, we played the role of cell phone manufacturers competing with one another for market share. In each round of the simulation we were given information on market conditions, expected demand, and competitors' sales from the previous period. Using this data and Cesim's decision-making interface, each team had to choose how many new plants to build, whether to invest in R&D, how to prioritize distribution, how many phones of each model to produce, and whether to contract out production, among other decisions. The simulation drew on concepts from a wide variety of my courses, including finance, marketing, supply chain logistics, and even HR, as some of the decisions involved determining salaries and choosing whether to lay people off.
As noted previously, Cesim's simulations are not currently available to individual students. But the ease with which No-Pay MBA Network members used the simulation – even though we weren't part of a "for credit" university course – made me think that there is a significant opportunity in providing these kinds of experiences to MOOC students.
Whether or not you get the opportunity to participate in a similar simulation, I do think it is important to find experiences to supplement MOOC course work, especially if you are trying to get an MBA-equivalent education. Below are some of the hallmarks of the kind of experiences MOOC students should seek out, my key takeaways from the Cesim business simulation, and some tips how you can apply them to your studies.
Balancing massive with small
Just as in a regular university education students balance large lecture courses with small seminars, MOOC business students would do well to seek out learning experiences in small groups. For one thing, in a class of thousands it is difficult to make and sustain real connections. For another, while information can be delivered massively, experiences cannot. Those who have been following the MOOC movement may be familiar with the lesser-known SPOCs – small private online courses.   SPOCs seek to overcome some of the limitations inherent to massiveness, but you wouldn't necessarily need to enroll in a SPOC in order to get the benefits of small group interaction.
This is where the No-Pay MBA Network comes in. In collaboration with the first cohort of the Network, I'm exploring ways to offer more valuable, small-group experiences to MOOC business students. Cesim's business simulation was one such opportunity.
A better way to build your network
Universities provide abundant opportunities to meet people – both socially and in the classroom. In the MOOC environment, however, no one will force you to interact. Therefore, building your network must be intentional. But how do you do it?
The problem is that adding valuable contacts to your network isn't as straightforward as inviting the people who come up on your LinkedIn feed to be your connections, or posting a comment in a discussion forum. In my opinion, the best way for students to build real connections is through projects. Project-based connections are much more natural than networking for networking's sake. I've also found that the connections I've built by collaborating and working towards a common goal are the most likely to persist.
Cesim's business simulation was highly useful in this regard. The simulation required me to work with my partner, a soft-spoken university student from India, who proved a thoughtful and insightful teammate. He and I didn't know much about each other prior to the simulation, but we learned quite a bit about each other's work styles through the game, and since then we have continued to collaborate. Other members of the larger group of eight that participated in the simulation made similar connections through the experience.
Whether through a business simulation, a class project, a digital internship, or a discussion group that you organize, it is well worth your time to find ways to collaborate on projects throughout your MOOC-based MBA.
Bringing it all together
My goal with my No-Pay MBA is to replicate the MBA education using free and low-cost resources. While coursework is a big component of that experience, in order for my No-Pay MBA to be rigorous and complete, I've had to seek out ways to synthesize and apply what I've learned. Some MOOCs are also good at providing opportunities to apply the content – Foundations of Business Strategy is one; Negotiation is another - but not all MOOCs involve an applied component.
Similarly, even in-person university programs have been criticized for failing to provide a unified curriculum. This critique could easily be levied against an MBA equivalent program, especially if all you do is take a series of largely unrelated courses. Hence the importance of projects that require the student to draw on multiple tools from the MBA tool kit.
My favorite thing about the business simulation was that it required me to draw on information and skills from multiple courses. While it was not graded or assessed, it did give me a good sense of how far I've come since starting my No-Pay MBA. I felt equipped to understand the data provided and prepared to make management-level decisions.
In addition to the business simulation, I've had other project-based and experiential learning opportunities that served the purpose of bringing multiple courses together – a Coursolve internship, volunteering to help a community-run business, starting my own business. Regardless of how you choose to do it, if you're pursuing a business education via MOOC, I strongly suggest that you find opportunities to synthesize and apply what you've learned.