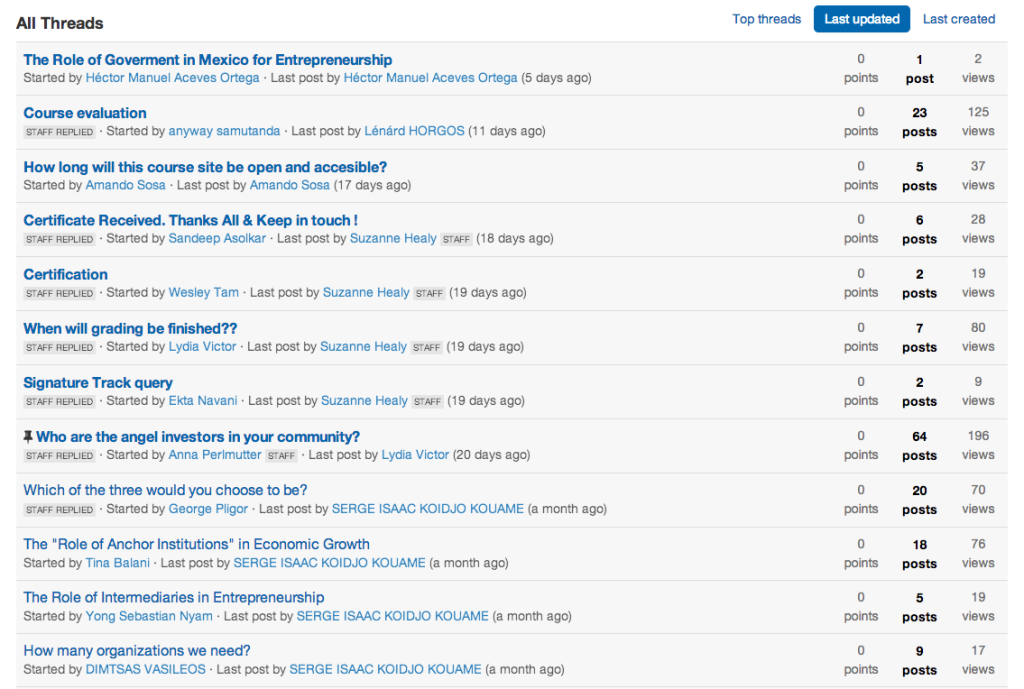 If you've been reading my blog for a while, then you know that my MOOC pet peeve is when professors require students to post on discussion forums as a part of the course grade. It creates a lot of meaningless chatter - one person writes something mildly intelligent, and a hundred others post something to the effect of "I agree." In general, I avoid courses that come with such a requirement. But I decided to look past this bias when I registered for "Beyond Silicon Valley: Growing Entrepreneurship in Transitioning Economies."  As I've written previously, this course was enormously relevant to my work. So rather than let my negative feelings about obligatory posting get in the way of my experience, I decided to make the course a laboratory for experimenting with how to get the maximum value out of discussion forums.
Here is what I learned:
1. Skip the Introductions Thread
Maybe you want to glance through the introductions, skimming for anything particularly interesting. But in general, the introductions thread is a blur of names and nationalities and people expressing their excitement about the course. Instead of making that your starting point, I suggest thinking about the kinds of people you'd be most interested in engaging with or what you're hoping to learn in the course. Then instead of reading post by post, search the entire discussion forum on those topics and see what comes up. For example, I usually start by searching on "Rwanda" and "Africa" to see who else is taking the course from my neck of the woods.
If nothing comes up, or if the posts on your topics of interest are scattered within the forum, start your own discussion thread based on geography, background, or field of interest.
2. Fill Out Your Profile, and Include a Photo
This is really important. Savvy social media users always do a bit of investigation on who they're dealing with before responding to a post. This isn't creepy, it's smart. On your own profile, include a very short summary with one or two interesting facts about who you are and what you do, who you're hoping to interact with in the course (optional), as well as links to any other social media you want people to reach out to you on.
If you're stuck for what to write, try this template:
"I'm a _______________________ working on _________________________. I'm taking MOOCs in order to ______________________________. I'd love to connect with others who share my interest in _____________________ and _________________________. You can also find me on LinkedIn, Facebook, Twitter, and _________________________. "
For example:
"I'm an international development professional working on entrepreneurship and public-private partnerships in Kigali, Rwanda. I'm taking business courses as part of project to construct a free MBA equivalent out of MOOCs. I'd love to connect with others who share my interests in development and entrepreneurship or my enthusiasm for MOOCs. You can also find me on LinkedIn, Facebook, Twitter, or on my website at www.nopaymba.com."
When others in the course post interesting comments, check their profiles before responding. You may find that you're interacting with someone in the industry you'd like to move into, and you now have a great point of entry for a conversation.
3. Facilitators Make a Difference
The professor of "Beyond Silicon Valley," Michael Goldberg, was a stellar forum facilitator. Throughout the course, I often wondered how he found the time to make so many personal connections, partcipate in so many discussions, and respond to so many comments. He helped keep discussions on track, made introductions among students, and generally kept the level of engagement high.
But not every course is led by a facilitator with as much verve and enthusiasm as Professor Goldberg. What then?
If you're in a course that lacks strong facilitation, I suggest trying to play that role yourself. While they don't have the star power of professors – who doesn't like getting a few good strokes from the teacher? - students can also be facilitators.  By taking a meta view of the discussion, trying to spark conversation, and focusing on connecting people, you the student can have a better forum experience and up your chances of making connections.
4. One Real Connection is Worth a Thousand Up-Votes
By far the most active group on the forum, and the group that seemed to get the most out of the course, was a group from Greece. They met in person periodically, developed real connections to one another, and used the forum as a supplement to a face-to-face conversation they were having. But what if, like me, you're in a place where you can't do that? Or what if you simply don't have the time for in-person meet-ups?
It is tempting to gravitate towards the discussion threads where the most is happening – most posts, most up-votes, most people. But I suggest doing the opposite: find a niche where you can substantively engage with a few people on a topic you are passionate about; then focus on making one or two connections that are strong enough to take outside of the classroom.
I started "Beyond Silicon Valley" thinking I would form a group of people who could interact via video chat throughout the course – a sort of virtual study group. To that end, each week I created a discussion thread called "Africa Study Group." A few times I floated the idea of a video chat, but no one expressed interest. I also joined the Facebook and LinkedIn groups for the course. Not much seemed to be happening there either.
By the end of the course, I hadn't managed to get a stable study group going, but I did have some great conversations with an entrepreneur in Africa who shares my interest in the potential of MOOCs for the continent. I realized that in the end, this one connection was probably just as valuable as a study group would have been.
Overall, I'm still not sold on discussion forums, but at least now I can find some good in them. I'm curious as to others' experiences in MOOC discussion forums. What's your opinion on mandatory forum posting? What value have you found in forums?