Find out which type you are and get targeted recommendations on how to study.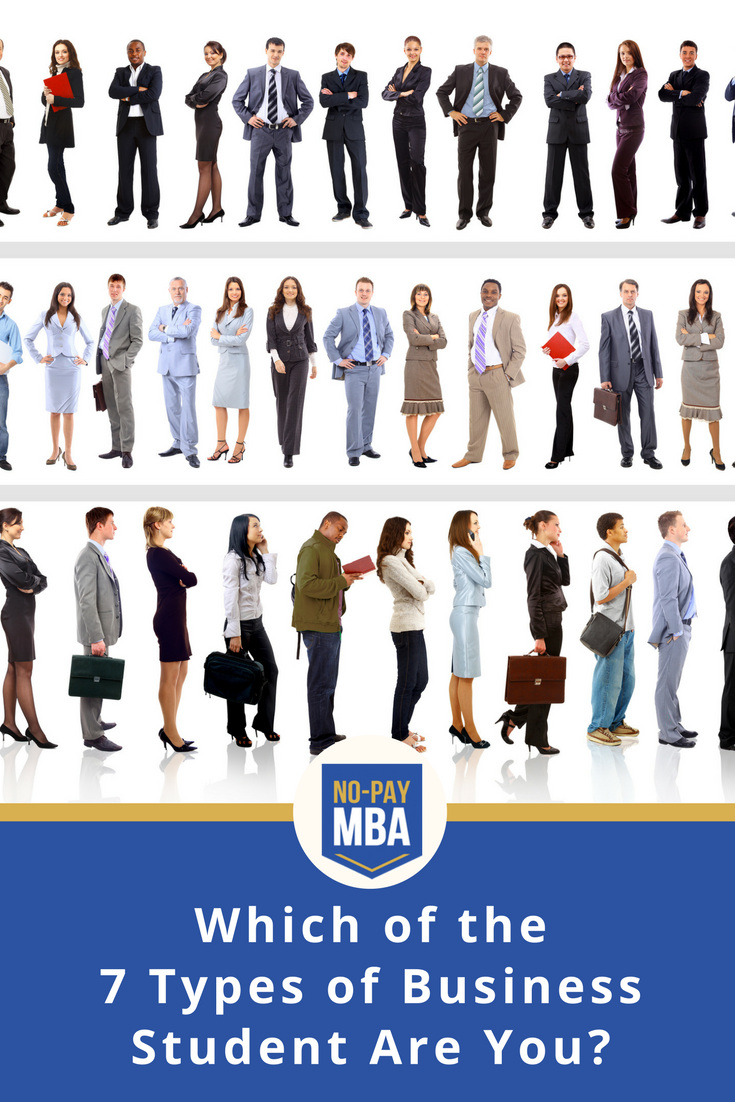 Note: This post contains affiliate links.
When I first started the No-Pay MBA website - and my quest to get a business education with free tools -  it was all about replicating the full MBA, course for course, internship for internship. I wasn't interested in anything less than the complete MBA experience.
But in working with business students through the No-Pay MBA Network, I've seen people approach their business educations in a variety of different ways. While there certainly are people who can benefit from the deluxe business school curriculum, it is no longer the only approach I recommend. In fact, I've seen people experience career-changing benefits just from taking a single course.
Through this work and my conversations with independent business students, I've identified at least seven different approaches to business education. The chart below can help you figure out whether one of them applies to you.
Figured out which type you are?
See below for course recommendations and study tips for each kind of business student.
Also, note that most of the courses I recommend are available to audit for free (that means no certificate and in some cases no quizzes or assignments). If you're wondering how to audit a class on Coursera, check out this short video.
Note: This section contains affiliate links. 
The Test Driver
You aren't sure where your career will take you, and you are seriously considering whether to get an MBA. Sure, an MBA can be a solid bet — but are you really ready to go tens of thousands of dollars into debt? If you're on this website, then you're probably having some doubts. If you are a Test Driver, then please do yourself a favor and take a few months to figure out two things BEFORE you commit to an education that will have you paying loans for the next 15 plus years.  Those two things? 1) the shortlist of careers you might like to pursue, and 2 ) whether an MBA is required for you to get a good job in one of those careers. Before you drop a hundred thou on tuition, you should be pretty clear on both points. MOOCs are a key starting point in your research. By "test driving" the MBA, you can figure out if b-school is really for you. Bonus: some schools are even counting MOOC success towards the application process.
A few good MOOCs:
The Business Foundations Series from the Wharton School of Business is a great place to start your business school journey.
Foundations of Business Strategy is another of my all-time favorites. It will give you a feel for the analytical work performed by management consultants.
You can find more course recommendations for Test Drivers in this article I wrote for The Daily Muse.
Extracurricular activities
:
Outside the classroom, Test Drivers should focus on conducting informational interviews with people in their industries of interest. If you don't have anyone in your personal network in the fields you're considering, check out a site like Evisors, which allows you to schedule short conversations with industry experts.
By "test driving" the MBA, you can figure out if b-school is really for you.
The Executive
You are at a mid-career level (or higher) and working in a field you enjoy. You might have started out in a technical role, like Nick, a medical device engineer, did.The next move, however, will require you to manage a team of people. Perhaps you've already been promoted to a managerial position in which you'll be managing people for the first time. Yikes! Are you ready for it? Thankfully, Coursera has you covered with some great resources to get started managing people.
A few good MOOCs:
You may want to start with a series like this one from the University of Minnesota on how to be a better manager of people.
Another great source of courses for you is the curriculum of the iMBA. This innovative program from the University of Illinois is literally an entire MBA, delivered via MOOC. You can do the degree program for $10,000 or cherry pick the content you need for free. Yep, that's right. An MBA for free (no degree though). Start by checking out their Strategic Leadership and Management Specialization.
Finally, the University of Michigan offers a series of courses on Leading People and Teams. And this series comes with some extra sweeteners for top-performing students, including credit toward a Distinguished Leader certificate from the Ross School of Business, office hours with faculty, and a LinkedIn endorsement from the Ross faculty.
Extracurricular activities:
Here are a few additional non-MOOC resources that are great for managers:
Brené Brown's TED Talk on vulnerability.

This powerful and entertaining TED Talk is a great introduction to the importance of self-reflection and emotions, even in the world of work.
The Accelerator
Like The Executive, The Accelerator is content to remain in the field in which she currently works. Unlike The Executive, however, her focus is on building her repertoire of technical skills. Are there people who are both Executives and Accelerators? Absolutely!
A few good MOOCs:
My advice to Accelerators is to pick a specific area and take several courses on the same topic. For example, if you are a marketer, you might want to go deep on digital marketing, taking a series like the University of Illinois's popular Digital Marketing Specialization.  
Or maybe you've discovered that an advanced understanding of quantitative analytics is the key to your move up the ladder. In that case, you might want to check out this series on Data Science and Analytics, or this one from Wharton on Business Analytics.
More and more, the content you can find in MOOC form is exceedingly high quality and of professional caliber. For example, you can study supply chain dynamics with MIT or earn a professional certificate on mergers and acquisitions, both through the edX platform.
Extracurricular activities:
See if you can be included as a member of a project team that is doing interesting work, or fill an interesting gap on your team. My husband isn't a business student, but he did take a series of MOOCs relevant to his field of international development. The courses taught some cutting edge techniques in program evaluation. As a result of expanding his repertoire, he was able to take on some special projects in the office.
The Traditionalist and The Career Shifter
The Traditionalist may have the most difficult task of all the types. He is trying to orchestrate a career move into a field that is dominated by MBAs. In fact, depending on his prior experience, he may find that in order to make that move, he needs to get a degree himself. His best bet is to combine the strategies of the Test Driver and The Accelerator (above). That means taking a broad range of MOOCs to build a strong foundation in business, as well as building some additional technical expertise. He'll also want to be sure to make a habit of conducting informational interviews to expand his network. With some luck, he may be able to avoid having to shell out for the degree.
The Career Shifter is in a similar situation to the Traditionalist, with the extra advantage that her field of choice is not dominated by MBAs. That means that by arming herself with an advanced understanding of business, she differentiates herself from the competition, instead of merely keeping up. In my view, these are the two types for whom a traditional MBA degree makes the most sense.  
Extracurricular activities:
Both of these types should make a concerted effort to do volunteer work or internships in the field they'd like to move into. The key here is to establish a track record in a new area, allowing you to make a lateral move. Developing a portfolio of work is all-important, as is growing your network in your new field. Internships and volunteer projects accomplish both.
The Explorer
If you are an Explorer, you may crave the kind of career transformation that an MBA can help you orchestrate. Yet, having weighed the cost of the degree against its benefits, you've come to the conclusion that a $100,000 bet on an unsure thing is simply too large! You're not sure what you want to do post-business education. What if you realize that your passions do not lie in high-paying business fields, but rather in social entrepreneurship, international development, nonprofit administration, or government? You are wise to explore your options without adding a massive debt burden to the equation.  
What if you realize that your passions do not lie in high-paying business fields, but rather in social entrepreneurship, international development, nonprofit administration, or government?
The Explorer uses his business education as a way of figuring out what to do next. Many Explorers already have significant career experience and may already hold an advanced degree. All the more reason not to go back to school full time and at full expense.
A few good MOOCs:
Like the Test Driver, you'll want to start by studying the fundamentals - topics like marketing, finance, operations, accounting, and management.
After that, study widely!  For The Explorer, the greatest things about MOOCs is the variety and the low cost of trying them out. Think you might be interested in running a hotel one day? Take Cornell's course on Hotel and Hospitality Management. Always wanted to understand the music business? Try this course from Berklee School of Music. Curious about quality improvement? Study Six Sigma.
Eventually, through study and reflection, you will probably wind up in one of the other categories of business student and can plan out a next step.
Extracurricular activities:
Explorers can benefit greatly from career coaching, as well as from values and aptitudes inventories, like Career Leader, which is used by many business schools. (If you're interested in taking the Career Leader inventory, which I administer in conjunction with a career conversation, you can contact me here.)
The Entrepreneur
I saved The Entrepreneur for last because it is unique among the types of business student. I've heard entrepreneurship described as jumping off a cliff and trying to build a plane on the way down. It can certainly feel like that. If you haven't yet started your business - or if you don't even have a clear idea yet of what kind of business you want to start -  take your time and give yourself the gift of a few months of MOOCs on general business topics, including entrepreneurship.
Once you gear up to launch you'll be scrambling to learn whatever necessary to make your business work. When you're an entrepreneur you end up being the chief, cook, and bottle washer. Translation: anything that needs doing, you'll do it. Need a logo? You'll study branding. Building a website? You'll learn WordPress. On-demand is the name of your game.
Are you an Entrepreneur? On-demand is the name of your game.